Shock and excitement. That's what I felt a few months ago (and still am!) upon hearing that my partner and I were expecting twins. Over the last few weeks, amongst the many thoughts swirling around my head, I've been thinking about how the inevitable change in my life will also change how I approach business.
I am curious – how does this entrepreneur graduate to 'parent-repreneur'?
Off the bat, there's the obvious stuff like building furniture (and bolting it to the wall, apparently!) and learning how to feed these bambinos. This is all new and exciting, but in a bid to be able to keep up the momentum in work and life, I've been looking at ways I can change my business to help me be the best parent I can be.
But how?
🔄 Replacing myself
Sounds a little dramatic. But what I mean is, especially as a business that specialises in unlocking time and building automation, it's only natural that I find ways to offload as many of my deliverables as possible, replacing them with tasks, apps, automation, or simply third-party help.
📊

Filling the pipeline

Oh, if only it were that easy. It does seem a sensible course of action, though, particularly with the view that I'll be taking paternity leave and would love to go away knowing there's plenty of work to keep everyone busy.
☕

Meeting other parents

Chatting to fellow parents, parents-to-be, or experienced parent-folk is a very sensible thing to do. I want to hear about the experience of others and how they've balanced children (figuratively, not literally). And that's warts and all – I want the good and bad experiences because, let's face it, nothing is ever plane sailing.

Ultimately, I am hugely excited about this new adventure, and I remain optimistic that my existing approach to work—one that is flexible and agile—should fit well with what's about to happen.

If you're a parent, I'd love you to join me on this journey, whether that's through calls, comments or even coffee. I can't promise I won't be knee-deep in diapers, but I will endeavour to continue this #parentrepreneuer series.

Apparently, they'll choose to come along whenever they feel like it – and I trust they'll do it with some grace and aplomb! Their papa's a nerd, goodness help them, so they will need some kind of running start.

Update!

They did choose their own arrival time – the twins arrived a few weeks ahead of schedule. My wife, Sarah, is doing well, and continues to amaze me every day. I'm a very happy man. Here we are reading them Harry Potter and the Philosopher's Stone. It's been a hit so far and we're saving to put them to Hogwarts.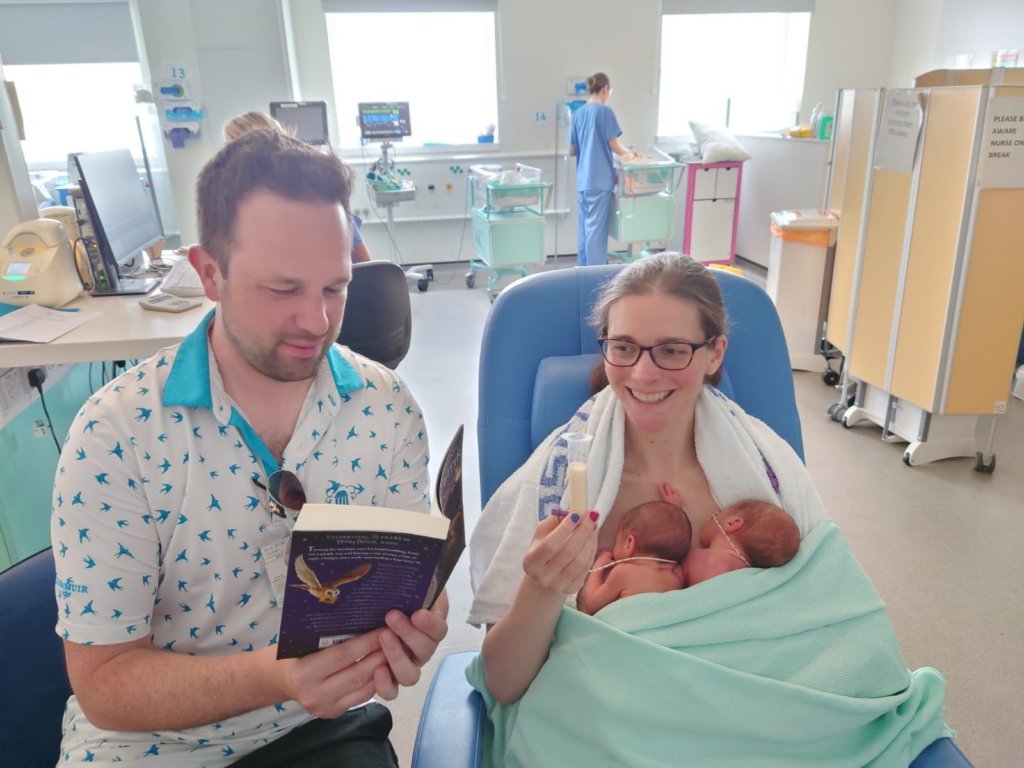 Keep up with the parentrepreneur journey
If you're an expecting parent, a "thinking about it" entrepreneur, or a seasoned parentrepreneur, I'd love you to follow along. I'll be posting regular updates here and on my LinkedIn (sleep permitting).
Or, if you're a business owner looking to free up your time for parenting, general life stuff, or you'd simply like to scale up and make more money, then contact us.