Improving reporting and control for leading B2B utilities broker.
REDUCING ADMINISTRATION AND IMPROVING AUTOMATED REPORTING for utilities brokerage
One of the UK's fastest-growing commercial utilities consultants – was becoming the victim of its own success. A burgeoning customer base meant increasing numbers of contracts were being managed and monitored using manual process and spreadsheets. This was leading to ever increasing amounts of admin time being spent keeping track of these and transferring data from them into their monitoring and accounting systems.
Forecasts and risk assessments in this sector require nuanced analysis of contract information which the spreadsheets couldn't readily provide and this was making it increasingly difficult to provide accurate business projections.
The client wanted to find a way of managing contract information that would ensure that information connected seamlessly with their accounting systems. They wanted it to allow selective visibility across their sales, management and finance teams. And they wanted to be able to carry out detailed analysis and risk assessments allowing for complicated contract variables.
Our first tactic was to examine precisely how the spreadsheets were being used. We interviewed the financial director, operations and sales team to determine exactly what would be required to streamline handling of the information and improve the quality of reporting that each stakeholder required. 
By centralising the data and digitising processes we reduced the amount of data being transferred across systems. This reduced the risk of information going astray and ensured that month-end figures, income levels and revenue projections could be viewed more accurately and quickly.
One of the key complexities of the business is that accounts which are cancelled early, incur "clawbacks" on the commissions paid by utilities suppliers. We created an algorithm that could accurately weight clawback liability across the entire portfolio improving the precision of forecasting and further reducing administration times and commercial risk.
With role base user permissions we enabled sales staff to access their own accounts, to check contract status, documentation and commission levels while management could actively track their sales performance.
The automated reporting and analytics functions of the new systems give the client clearer overviews of performance, liabilities and dependable revenue projection. This enables the company's leadership team to adopt a more dynamic management style and make more aggressive decisions, confident in the underlying assumptions.

The system also gave sales teams enhanced visibility of contract details and ensured that compliance paperwork was monitored more effectively. It eliminates bottlenecks in reporting between sales and operations. The sales consultants benefit from significantly improved access to information and full transparency over their commission structures.
Having proven the effectiveness and future proofed the system design from the outset the client is ready for the next phases of development including compliance management and integration to other applications.
Application development for pioneering assistive technology company, Enabling Me. We increased performance and management of SMS-based assistive care devices with privacy and reliability front of mind. Care sector device management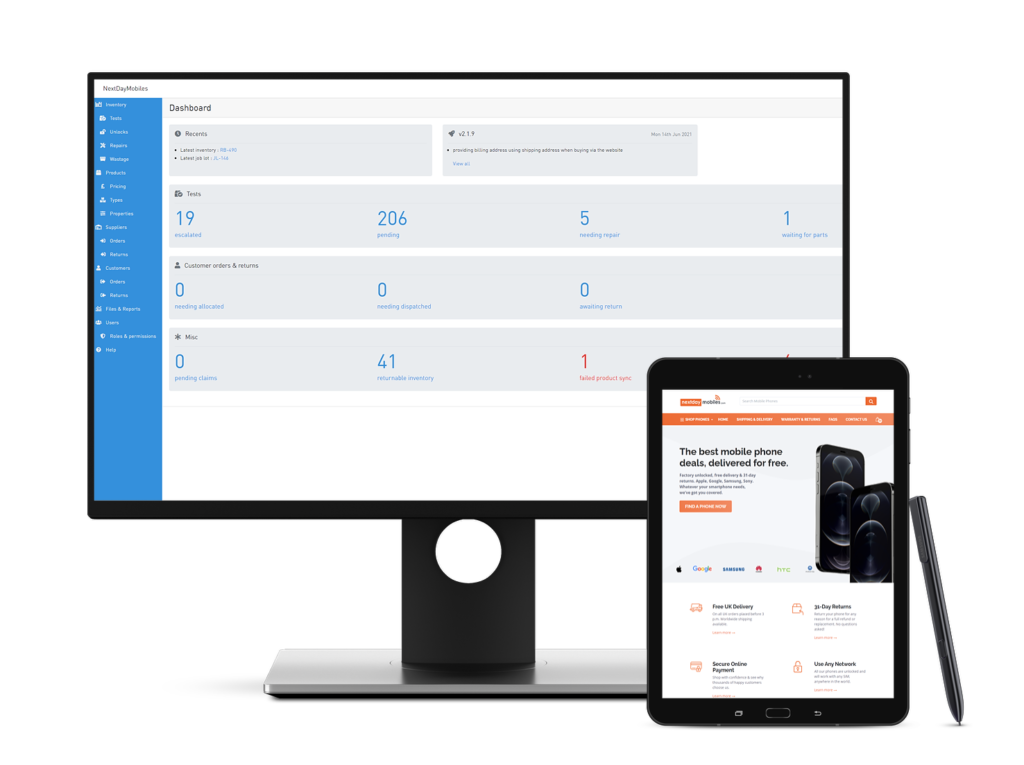 Inventory management system (IMS) for a mobile phone ecommerce business. We transformed our client's inventory management, facilitating growth, productivity and profitability. complex inventory management Properties such as IMEI, condition and
Water company sales and customer service software Modelling in Excel helped us to create a highly effective web app, enabling our client to grow from a start-up to £5.0m+ annual